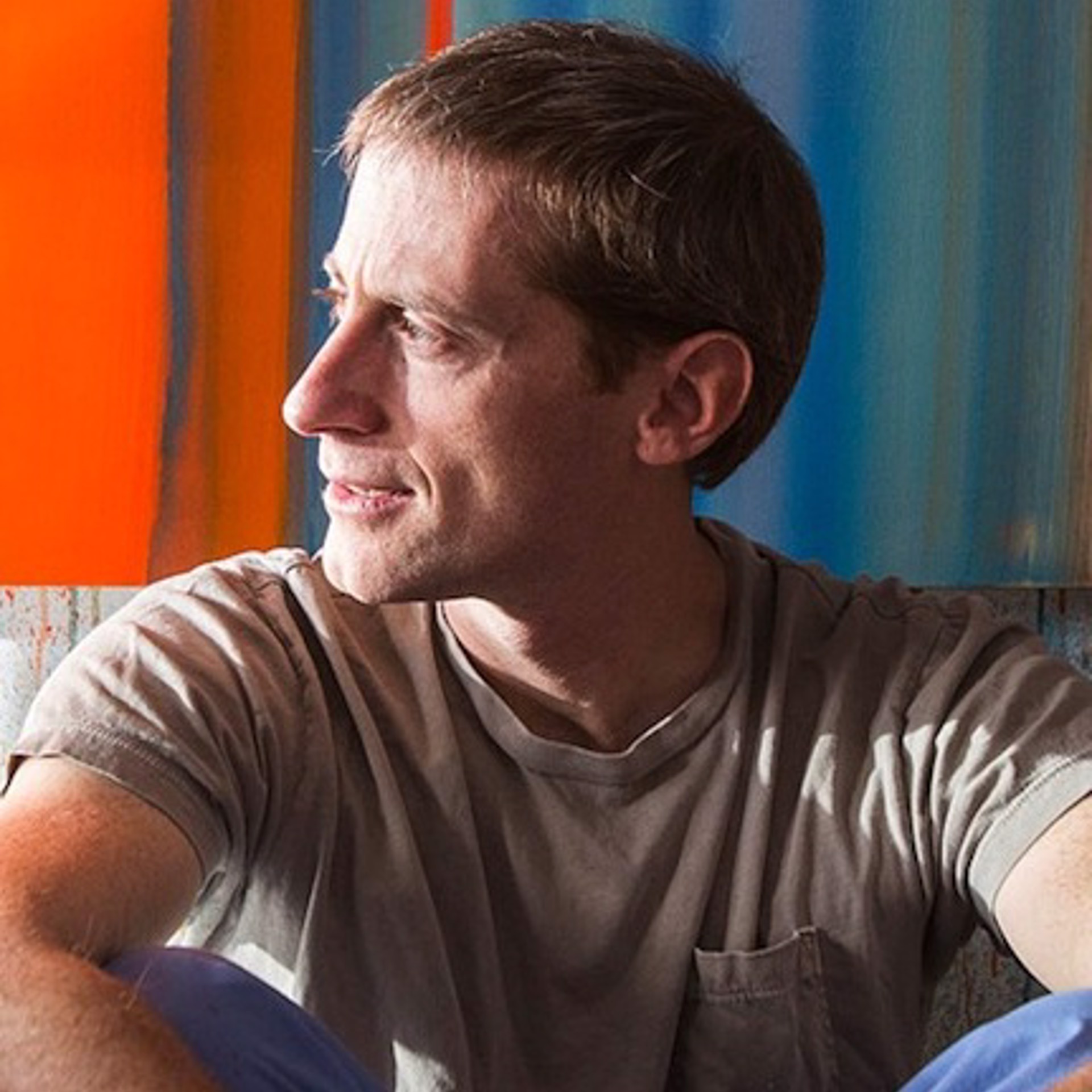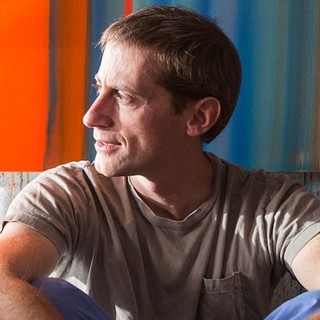 Willy Bo Richardson (b. 1974 Santa Fe, NM) married himself to a single mode of working as a formal recognition of the power of remaining in one place and as a way to honor consistency and quietude.
Richardson shows extensively throughout the United States and his work can be found in private and public collections including a recent acquisition by the Albuquerque Museum. He received an MFA in painting from Pratt Institute in 2000, was a painting tech at Cooper Union in New York for 7 years and a faculty member at Santa Fe University of Art and Design for 7 years.
Richardson's work has been the subject of solo exhibitions at Richard Levy Gallery, New Mexico and Skot Foreman Gallery in San Miguel de Allende Mexico, among others. His work has also been featured in numerous group exhibitions including 70 Years of Abstract Painting – Excerpts at Jason McCoy Gallery. The show assembled works by a selection of modern and contemporary painters, including Josef Albers, Hans Hofmann and Jackson Pollock. In 2012 he showed a body of work in the exhibition "Watercolors"" at the Phillips de Pury headquarters in Chelsea New York.
His work and vision was featured on the PBS weekly arts series, ¡COLORES!. Public collections include the Albuquerque Museum. Richardson was awarded a residency at Tamarind Institute and was a SITE Santa Fe SPREAD finalist.
C.V.
Selected One Person Exhibitions
2021 All Yours, Skot Foreman Gallery, San Miguel de Allende, Mexico
2019 Colophon, ClampArt, New York, NY
2018 Navigation, Richard Levy Project Room, Albuquerque NM
2015 Clockwork for Oracles, Richard Levy Project Room, Albuquerque NM
2008 Lolland and Other Places, Gallery Sakiko, New York NY
2006 Confluence, Gallery Sakiko, New York NY
Selected Group Exhibitions
2021 Abstractions, Nüart Gallery, Santa Fe NM
———Accessible Art Fair, Catawiki Auction, Brussels
———A Few of Our Favorite Things, Richard Levy, Albuquerque NM
2020 Jason McCoy Gallery, From Dark to Light, New York NY
2019 No Modifiers, Tamarind Institute, Albuquerque NM
———The Spaces Between, SFCC Visual Arts Gallery, Santa Fe, NM
———Kaleidoscope, Selby Fleetwood Gallery, Santa Fe NM
———ClampArt, New York, NY
2018 Exquisite Corpse, drawing event, SITE Santa Fe
———ClampArt, New York NY
———Laura Rathe Fine Art, Dallas Texas
———Painted Places, Selby Fleetwood Gallery, Santa Fe, NM
2017 Lumina, Selby Fleetwood Gallery, Santa Fe NM
———Danae Falliers and Willy Bo Richardson, Surroundings, Santa Fe, NM
———Hunt Modern, Santa Fe, NM
2016 SITE Unseen 9, SITE Santa Fe, Santa Fe, NM
———Indian Summer Show, DM Contemporary, New York NY
———Art on Paper, Richard Levy Gallery, New York, NY
2015 Miami Project, Art Basel Miami, Richard Levy Gallery, Miami, FL
———Seattle Art Fair, Richard Levy Gallery, Seattle WA
———Willy Bo Richardson and Edward Lentsch, Turner Carroll, Santa Fe, NM
———Seduced, dm contemporary, New York, NY
———Art on Paper, Richard Levy Gallery, New York, NY
———Reverberant Matter, SFUAD at Wade Wilson Art, Santa Fe, NM
———Palm Springs Fine Art Fair, Turner Carroll, Palm Springs, CA
2014 Miami Project, Art Basel Miami, Richard Levy Gallery, Miami, FL
———Texas Contemporary, Richard Levy Gallery, Houston, TX
———Fall Color, William Siegal Gallery, Santa Fe, NM
———That's Where You Need to Be, Richard Levy Gallery, Albuquerque, NM
2012 Watercolors, Phillips de Pury & Company, New York, NY
———Paper Band, Jason McCoy, New York, NY
———ClampArt, New York, NY
2011 70 Years of Abstract Painting – Excerpts, Jason McCoy, New York, NY
2010 Art Santa Fe, LaunchProjects, Santa Fe, NM
2009 Songlines, Gallery Sakiko, New York, NY
———Summer Reverie: Invitational, William Siegal Gallery, Santa Fe, NM
———Pairs, Ambient Art Projects, Las Vegas NV
2008 New Artists, New Work, William Siegal Gallery, Santa Fe, NM
———Beaux Arts Ball, Center for Contemporary Arts, Santa Fe, NM
2007 Richardson2, Center For Contemporary Arts, Santa Fe, NM
———Transformations, ICD & Art Connects, New York, NY
———Common Threads, Fresh Paint, Los Angeles, CA
———Water, The Gallery, Sag Harbor, NY
2006 Summer Color!, Gallery Sakiko, New York, NY
———The Water Show, The Gallery, Sag Harbor, NY
———Black and White, Holland Tunnel, New York, NY
2005 Academy Gallery, University of Tasmania, Launceston, Australia
2004 X Semination, Kings Gallery, Sydney, Australia
———Small Works Salon, The Gallery, Sag Harbor, NY
2003 NY Art Independent 03, Ausstellungshalles des Kurorts Timmendorfer Strand, Germany, Curated by Stephanie Buhmann,
———Brooklyn On 57th Street, Nohra Haime Gallery, New York, NY
2002 NY Art Independent 02, Kunstraum, Westerland, Sylt, Germany
———Editions Project, Brooklyn Front Gallery, Brooklyn, NY
2001 NY Art Independent 01, Kroll-Vogel, Hamburg, Germany
2000 LandEscape, Dieu Donne Papermill, New York, NY
———Pratt Institute MFA Thesis Exhibition, Brooklyn, NY
———DFN Gallery, New York, NY
Selected Awards
2019 Tamarind Institute residency, Albuquerque, NM
2018 Clark Hulings Fund Executive​ ​Tier​ ​Year​ ​II​ ​Fellowship​
2017 Clark Hulings Fund Grant Recipient for Visual Artists
2015 SITE Santa Fe SPREAD finalist
Selected Collections
Albuquerque Museum of Art and History permanent collection
Institute for Career Development, New York City
Buddhismus Stiftung Diamantweg, Immenstadt Germany
Foulger-Pratt Headquarters, Baltimore, MD
Houston Medical Center, Houston TX
Loomis Sayles & Company, Boston MA
Miraval Resort Villas, Tucson AZ
Moen Group, Plaza Towers, Iowa City IA
MGM Resorts, Las Vegas
Teaching Positions
2010–2016 Contributing Faculty, Studio Arts, Santa Fe University of Art and Design
2011–2012 Instructor, Painting I and II, Santa Fe Community College
2001–2007 Painting Technician, Cooper Union, New York, NY
Selected Bibliography
Thompson, Helen , "Santa Fe Modern: Contemporary Design in the High ———Desert". The Monacelli Press, 2021, p. 39. Print.
McClain, David, "Willy Bo Richardson, Clockwork for Oracles"
———Superpresent, Issue 3 Summer 2021: 51. Print
Almino, Wouk, Elisa, "A View From the Easel During Times of Quarantine"
———Hyperallergic, May 22, 2020.
Patti LaSalle-Hopkins, "On the Line"
———New Mexico Magazine, April 2018, Volume 96, Issue 4: 74-77. Print.
Isabelle Walker, "Collectors Notebook: Getting Down to Business"
———Western Art and Architecture, April | May 2018. Print
Elaine Grogan Luttrull, "Strategic Planning in Action: Notes from the Field"
———Professional Artist, Dec 2017 | Jan 2018, Volume 31, Number 6: 14-18. Print.
Nancy Reyner, "Create Perfect Paintings: An Artist's Guide to Visual Thinking"
———North Light Books, 2017. Print.
Aaron Gulley, "Color Outside the Lines"
———Virtuoso Life, July | August 2016
Eric Kroll, "Laberintos de Lineas y colores – El arte de Willy Bo Richardson"
———Dental Tribune Latin America No. 9, 2015 Vol. 12
Kathryn Davis, "Albuquerque Contemporary"
———ArtBeat radio KVSF, Aug 28, 2015
Anna Furman, "Three Distinct Artists United by Bold, Enthusiastic Styles"
———Arsty, April 3, 2015
Margaret Wright: "Painters Point the Way at Richard Levy Gallery"
———Adobe Airstream, August-September 2014 Edition
Mateo Coffman: "That's Where You Need to Be"
———Local IQ, Tuesday, 22 July 2014
Ashley E. Rooney: "Contemporary Art of the Southwest"
———Atglen: Schiffer Publishing, 2014. Print.
¡COLORES!, PBS
———"Willy Bo Richardson, The Impressionists, Regional Theater, Jack Ross", Feb 7, 2014
Aaron Gulley: "The Soul of Santa Fe",
———DestinAsian, Feb/March 2013
Kristina Nazarevskaia: "Willy Bo Richardson – Watercolors at Phillips de Pury & Co"
———GalleryIntell, Oct 4, 2012
Peggy Roalf: "Abstraction: Informers and The Informed"
———Design Arts Daily, April 21, 2011
Lynn Maliszewski: "A Perceptual Dance Party for Your Eyes"
———Hyperallergic, May 26, 2011
Katy Crocker: "Painting, Doritos and Color Theory – The Work of Willy Bo Richardson"
———The End of Being, April 2011
"Artists to Watch in 2010"
———Décor Magazine, January, 2010
Kate Beck: "Color as it Happens: Steven Alexander and Willy Bo Richardson"
———Kate Beck Art Notes, August 10, 2009
Patricia Sauthoff: "A Father and Son Take Inspiration,"
———Santa Fe Reporter, October 17-23, 2007
Stephanie Buhmann: "Confluence: Willy Bo Richardson,"
———Catalogue 2006
Ali Gowans,: "Artfully Saluting the Season,"
———The Daily Iowan, Iowa City, IA, Nov 16, 2005
"Visiting Artist to Exhibit Work Inspired by Autumn,"
———The Gazette, Iowa City, IA, Nov 13, 200
Neil Richardsen: "Five From New York,"
———The Examiner, Launceston, Tasmania, Australia, April 2, 2005
Penny Webb: "The Mouse That Roared,"
———The Age review, Tasmania Australia, Jan 7, 2005
Jordana Borensztajn: "New York Comes to Town,"
———Herald Sun, Australia, Jan 17, 2005
Donald Riggs: "Writing Under Pressure,"
———Drexel University Journal, Philadelphia, PA, 2004
Rebecca Wasserman: "Richardson's Rainbow at Nohra Haime Gallery,"
———The Crimson Feet, Oct 2003
Publications as Author
Influencing Space: If AI Could Meet Buddha, ThinkJar Collective, May 2020
A Painter Who Became Allergic to Paint?, Pyragraph, April 2017
Dad, Why Do You Paint Stripes, Pyragraph, Nov 2016
The Artistic Thinking Process, Creativity Post, March 2012
Learning to Share: On Candy, Art, and Independence, Adobe Airstream, Feb 2012
Read More